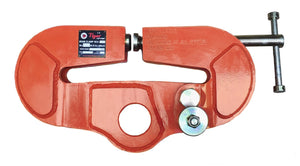 Tiger BCU Universal Beam Clamp
£620.00

£620.00
Tax included.
Shipping
calculated at checkout.
---
---
 BCU Universal Beam Clamp
 The Tiger Universal Beam Clamp Model No BCU has been designed not only for vertical use, but also for side load applications, where conventional clamps are not suitable. This clamp is highly flexible in application and can be used for lifting, pulling or as a semi-permanent anchor point.

It can be loaded at any angle and eliminates the use of spreader beams in various lifting operations.

• Suitable for pulling and lifting at angles across the beam

• Designed for both vertical and side loading applications -
can be loaded at any angle

• Full rated capacity at any lifting angle
Warning: Do not exceed working load limits or use this
equipment for lifting flat plate sections

• 2.0t, 3.0t , 5.0t and 10.0t capacities available

• *NEW* 10t deep flange option (to 40mm)

• Quick and versatile rigging point for hoisting equipment

• Low headroom design

• Highly flexible – for lifting, pulling or as a
semi-permanent anchor point

• Designed to accommodate a wide range of beam widths

• Multi directional adjusting screw spindle ensures a high
clamping force to the beam web

• Operating temperature -40°C to +80°C (temperature range
of -60°C to +80°C available as an option)

• Factor of safety: 5:1 for straight pulling and lifting, 4:1 at all
other angles

• Complies with ASME B30.20 and EN13155:2003+A2 :2009